The PhD Pathways Series from Versatile PhD provides an "outside the academy" perspective on career preparation and opportunities across a range of skills, trends and industries. This webinar from December 2020 is available to view now, and be sure to check out the rest of Versatile PhD's resources.
Using LinkedIn to Leverage Your PhD for Career Success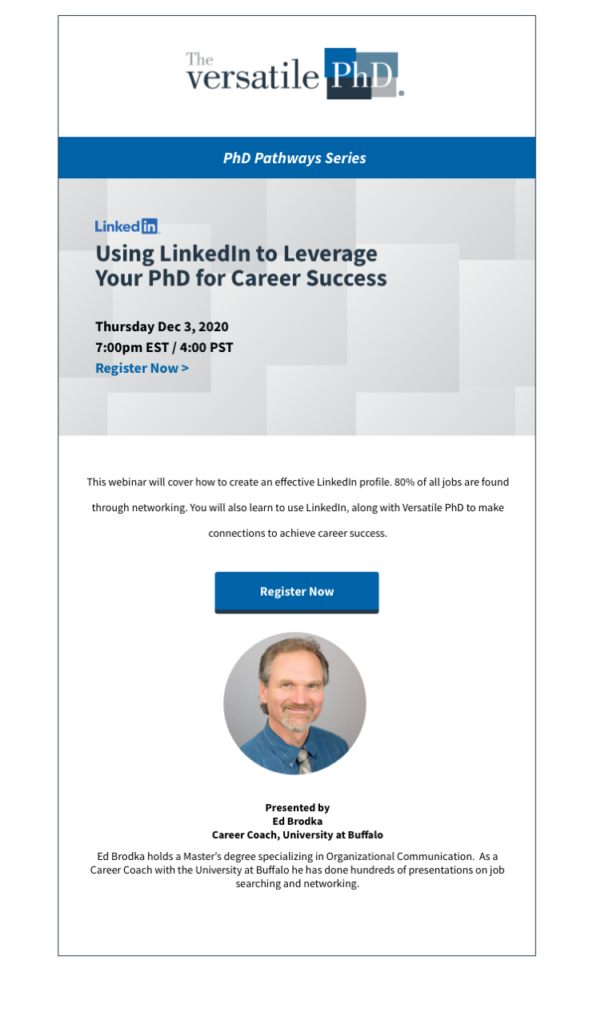 Join Ed Brodka for a webinar that will cover how to create an effective LinkedIn profile. 80% of all jobs are found through networking, including those with PhDs. You will also learn to use LinkedIn, along with Versatile PhD to make connections to achieve career success.
Presented By Ed Brodka, Career Coach, University at Buffalo
Ed Brodka holds a Master's degree specializing in Organizational Communication. As a Career Coach with the University at Buffalo he has done hundreds of presentations on job searching and networking.
Note: This event was hosted by the Graduate School at Columbia University as part of its PER Series and included the participation of Versatile PhD.
See more webinars from Versatile PhD