The PhD Pathways Series from Versatile PhD provides an "outside the academy" perspective on career preparation and opportunities across a range of skills, trends and industries. This webinar from February 2021 is available to view now, and be sure to check out the rest of Versatile PhD's resources.
All the World's a Stage: An Improvisational Approach to Building a Post-Doctoral Career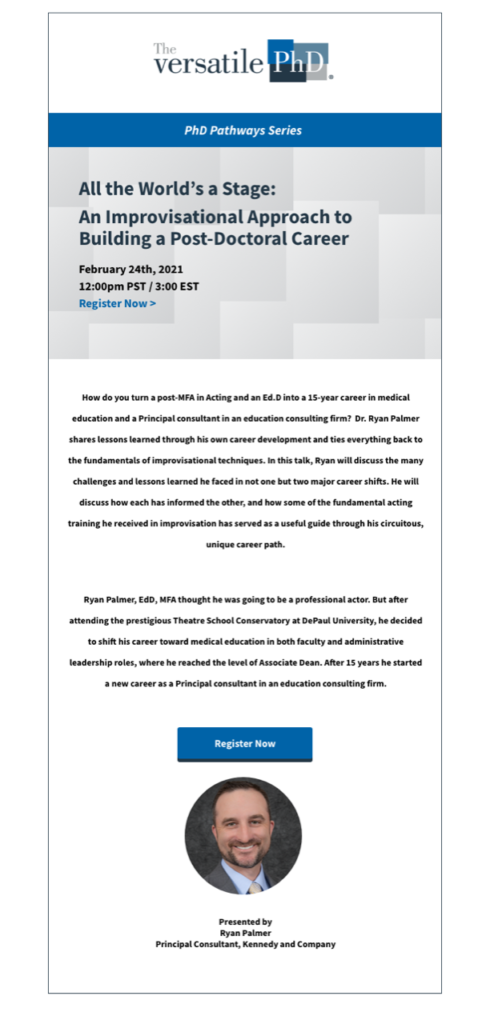 How do you turn a post-MFA in Acting and an Ed.D into a 15-year career in medical education and a Principal consultant in an education consulting firm?  Dr. Ryan Palmer shares lessons learned through his own career development and ties everything back to the fundamentals of improvisational techniques. In this talk, Ryan will discuss the many challenges and lessons learned he faced in not one but two major career shifts. He will discuss how each has informed the other, and how some of the fundamental acting training he received in improvisation has served as a useful guide through his circuitous, unique career path.
Ryan Palmer, EdD, MFA thought he was going to be a professional actor. But after attending the prestigious Theatre School Conservatory at DePaul University, he decided to shift his career toward medical education in both faculty and administrative leadership roles, where he reached the level of Associate Dean. After 15 years he started a new career as a Principal consultant in an education consulting firm.
See more webinars from Versatile PhD